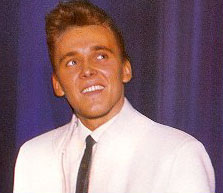 Billy Fury was born Ronald Wycherley on April 17th 1940, in the Wavertree area of Liverpool. A bout of rheumatic fever at the age of six and again at about 16 led to lengthy periods in hospital and finally resulted in a permanently damaged heart. While working on the tug-boats his interest in music, already stimulated by the family enviroment and piano lessons at ten years of age, was further fuelled by listening to the American brought in by visiting seamen from trips across the Ocean. Especially this new music, Rock 'n' Roll, started to make an impact on young Ron. In actual fact Billy's parents had bought a guitar for him from Frank Hennessy's, when he was about 14 of age. He taught himself to play the guitar and soon entertained his friends with his music.
Billy Fury was one of the UK's most underestimated performers. People that knew him well claim that Billy was a naturally quiet introvert who took on a completely different personality when he walked on stage. Although he has usually been portrayed as a rock and roller because of his beginnings, and his association with Larry Parnes, Billy Fury was an exceptional ballad singer. His soft style exuded a sexuality which even managed to find its way on to his vinyl and can be traced on many of his best recordings- like 'Halfway To Paradise' and 'Jealousy'.
Ronald Wycherley's professional singing career began after a brief audition for Parnes who immediately signed up the youngster and renamed him. Billy had brought his own songs to the audition- unusual for the time- and used one of these for his first single. Larry Parnes was very aware of how valuable Billy was to his 'stable' and made sure that he was always backed by competent musicians. These included the 'Blue Flames' (with pianist Georgie Fame), and the 'Tornados' who became famous for the Joe Meek instrumental 'Telstar'.
illy Fury was Decca's most charted recording star of the 1960s and only three of the 45 rpm singles that he recorded with Decca failed to reach the chart, although he never actually got a #1. However, he was unable to repeat this success with EMI; none of his Parlophone releases succeeded although they were of good quality. Unfortunately, Billy Fury was plagued by poor health- the result of a childhood illness that left him with a weakened heart. He was given major heart surgery in 1971 and his career slowed down during that decade and even included a couple of 'retirements'.
The year 1983 looked bright for Billy; a brand new album was on it´s way, plans for a nationwide tour with Helen Shapiro were made and he taped six songs for the Channel 4 TV show "Unforgettable". On January 27th after working late in the studio, Billy returned home and collapsed during the night. He was found unconscious the next morning and rushed to a hospital. This time he lost his battle and died at the age of 42. A week later his funeral were held at the St. John´s Wood Church in London. Among the mourners were Larry Parnes, Marty Wilde, Hal Carter and ex-Pirate Mick Green in addition to family members, friends and fans. The choir sang a special version of Billy´s Decca hit "I´m Lost Without You", a fine tribute to the great performer. After the service Billy was buried at Mill Hill cemetery.
Billy Fury was also a keen amateur birdwatcher.