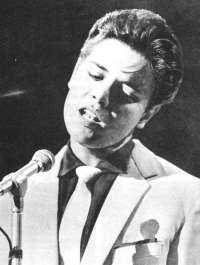 Oh Boy! was the first teenage all-music show on British TV airing from June 1958 until May, 1959. It was produced by Jack Good for ITV.

Within the first 6 weeks, the show became a smash hit and the number of viewers had doubled.
Many top British vocalists who went on to achieve international fame made their early TV appearances on the show. Sir Cliff Richard, Dame Shirley Bassey, John Barry, Marty Wilde and Billy Fury are some examples.
The cast listings read like a who's who of UK 'Hit Paraders' of the time and were household names - The Dallas Boys; Ronnie Carroll; The Vernons Girls; Emile Ford; The King Brothers; Lonnie Donegan; Vince Eager; Dickie Valentine and Alma Cogan. The show was even blessed with appearances by non British acts: The Inkspots; Conway Twitty and Brenda Lee from the USA and the Marino Marini Quartet from Italy all appearing to promote their latest recordings.

The show was transmitted on Saturday evenings and was in direct competition to the BBC's 6.5 Special. Each week it featured resident artists plus a selection of special guests. The residents included Cliff Richard and the The Vernons Girls.
The last of the original show went on air on 30th May 1959.
ABC for ITV tx 15/6/1958 - 30/5/1959
40 x 30 min editions, black & white
Producer: Jack Good
Director: Rita Gillespie
Scripts: Trevor Peacock
Dance Direction: Leslie Cooper
Musical Direction: Harry Robinson
Presenters: Jimmy Henney, Tony Hall
A further list of some of the people that appeared on the programme:
Neville Taylor and The Cutters
John Barry 7
Maggie Stredder
Emile Ford
Michael Holliday
Vince Taylor
King Brothers
The Mudlarks
Vince Taylor and His Playboys
Tommy Steele
Vince Eager
Billy Fury
Cuddley Dudley
Peter Elliott
Jackie Dennis
a note on the Oh Boy recording:
Cliff Richard and Peter Elliott were not at the recording studios along with everyone else on that evening of October 19th - they both had previous engagements. Their contributions to the LP were recorded later and added in.
In Cliff's case, he returned to Studio 2 at the Abbey Road Studios on Tuesday October 21st and between 6-10pm that evening he recorded his 6 tracks - all of which were sung by Cliff in various episodes of the TV show.
Oh Boy! episode #30 4th April 1959 (part 2of3)
1. I Like Love (Tony Sheridan and his Wreckers)

2. Don't Look Now (The Vernons Girls)

3. Red Planet Rock (Don Lang - with Red Price on sax solo)

4. Slippin' n' Slidin' (Dickie Pride)

5. This is Our First Anniversary (Lorie Mann)
Compered by Tony Hall