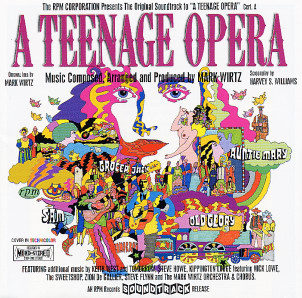 RPM Records RPM165 CD 1996
Liner Notes
The Teenage Opera - one of the legendary long lost projects of the sixties - comes to life for the first time. RPM has compiled the soundtrack for The Teenage Opera in as near a form to the original concept as possible - as it would have been had EMI not pulled the plug back in 1968. Producer Mark Wirtz began work on The Teenage Opera story idea in 1966 when contracted to EMI, and teamed up with a group of musicians including Steve Howe and Keith West plus engineer Geoff Emerick.
The story of The Teenage Opera was to include sketches of different characters who inhabited a fantasy village, which in turn was part of a story being told by a young man to a young woman. Two singles were released as Excerpts from the Teenage Opera - "Grocer Jack "and "Sam", both here in stereo for the first time and featuring Keith West's vocals (the former also including "Theme From A Teenage Opera" on the b-side). Whilst "Grocer Jack" became a huge UK & European hit, "Sam" failed to emulate it and after EMI saw how much money the two singles had swallowed up they lost interest and patience and refused to finance The Teenage Opera project. Undeterred, Mark Wirtz continued to use his musical ideas and a number of Teenage Opera characters and themes appeared over the years on a variety of singles by different bands or as solo releases.
Performed by
Mark Wirtz (5 as 'Steve Flynn', 14, 17 as 'The Sweetshop', 18, 19 as 'Zion de Gallier')
The Mark Wirtz Orchestra (1, 4, 6, 8, 11, 16, 22)
The Mark Wirtz Orchestra & Chrous (2, 10, 13, 23)
Keith West (3, 7, 12)
Tomorrow (9, 20)
Kippington Lodge (15)
Astronaut Alan & The Planets (21)
Mark Wirtz: vocals (5, 14, 17, 19, 21), keyboards (12, ?)
Keith West: vocals (3, 7, 9, 12, 20)
Nick Lowe: vocals (15)
Ross Hannaman: vocals (17)
Steve Howe: guitar (9, 12, 20, ?)
Band of the Irish Guards (17)
Produced and arranged by Mark Wirtz
Soundtrack producer: Phil Smee
Executive producer: Mark Stratford
Recorded 1967, 1968
(1-3, 9, 10, 12, 13, 20, 23) in stereo; (3, 12) are released in stereo for the first time here
Never completed at the time, Mark Wirtz' A Teenage Opera was re-constructed by Wirtz and RPM in 1996 from a variety of contemporary releases and some previously unreleased material (4, 6, 11, 16, 22). "Grocer Jack", Mark Wirtz' music and idea in collaboration with lyrics and vocals by Keith West (a.k.a. Hopkins), was a hit single in 1967.
Track Listing
1.
Theme From A Teenage Opera
Mark Wirtz
2.
Festival Of Kings
Mark Wirtz
3.
Grocer Jack (Excerpt from a Teenage Opera)
Mark Wirtz
4.
The Paranoic Woodcutter
Mark Wirtz
5.
Mr Rainbow
Mark Wirtz
6.
Glory's Theme (All Aboard!)
Mark Wirtz
7.
On A Saturday
Mark Wirtz
8.
Possums Dance
Mark Wirtz
9.
Auntie Marys Dress Shop
Mark Wirtz
10.
Love & Occasional Rain
Mark Wirtz
11.
Grocer Jack (Reprise)
Mark Wirtz
12.
Sam
Mark Wirtz
13.
Farewell to A Broken Doll
Mark Wirtz
14.
(He's Our Dear Old) Weatherman
Mark Wirtz
15.
Shy Boy
Mark Wirtz
16.
Grocer Jack's Dream
Mark Wirtz
17.
Barefoot & Tiptoe
Mark Wirtz
18.
Knickerbocker Glory
Mark Wirtz
19.
Dream Dream Dream
Mark Wirtz
20.
Colonel Brown
Mark Wirtz
21.
Cellophane Mary Jane
Mark Wirtz
22.
Paranoic Woodcutter #2
Mark Wirtz
23.
Theme From A Teenage Opera (end titles)
Mark Wirtz